Queen Charlotte Track
The Queen Charlotte Track is New Zealand's most diverse coastal walk set in the geologically unique Marlborough Sounds. Stretching from historic Ship Cove to Anakiwa, this undulating trail features remnants of virgin native bush with a sea view around almost every corner.
Queen Charlotte Track
Email Kent @ info@picton-accommodation.co.nz for the best tracks to walk for the amount of time you have in Picton & Marlborough.
Beach Comber Cruises
At Beachcomber Fun Cruises, we have great pleasure in offering you a selection of cruises and day walks within the picturesque Queen Charlotte Sounds.
We are the only official licensed New Zealand Post rural delivery service. Our Magic Mail Run allows us to take you out to experience the excitement of Mail Day and meet the residents who enjoy this unique lifestyle. When you cruise with us, you cruise on vessels designed to highlight the amazing scenery and with knowledgeable skippers who will provide a detailed commentary.
Blue Horizon Cruises
Darryl & karen would like to you to "Experience Luxury" Picton Harbour and outer Marlborough Sounds cruises for the 2014 summer season, aboard one of New Zealand's finest charter vessels the "M.V.AKARUA" a skippered 68 foot Salthouse vessel. .
M.V.AKARUA is the perfect setting for Christmas functions, Corporate, Special Occasions, Sevens, Team building, Social Clubs, Diving, Bed & Breakfast, Birthday's, Family, Friends and much more … Choose from Breakfast, Lunch, Evening, Cocktail, Buffet or BBQ's.
M.V.AKARUA is Picton's newest and most luxurious charter launch in the 60-70ft range with all weather seating at 4 tables for 25 of the 30 guests.
Email Marie @ info@picton-accommodation.co.nz for great Cruise options & Deals
Fishing and Diving in the Sounds
Fifteen hundred km's of coastline surrounded with hills clad in sub antarctic rain forest the waterways of the Marlborough Sounds are a fisherman's and divers paradise. We boast the most productive scallop beds in the country.
Crayfish are abundant all year round and the paua (abalone) cover the rocks on the inner shore.
The water is temperate and clear. Reef fish are abundant and the spear fishing is second to none!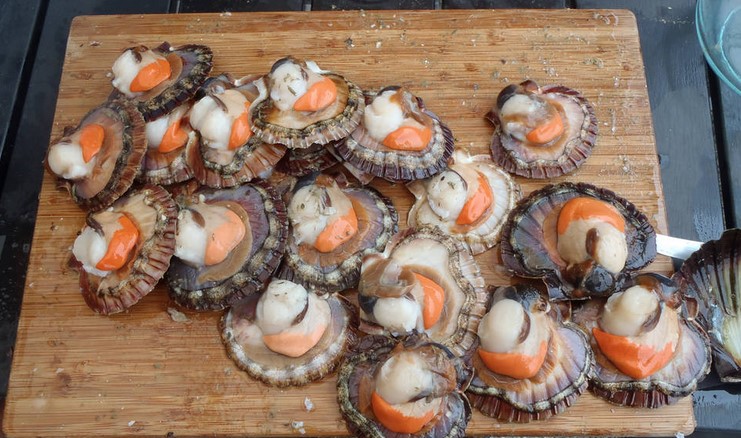 Email Kent @ info@picton-accommodation.co.nz for some great diving & fishing locations.
---
Ride our fast dive-boat in the beautiful Marlborough Sounds for many hours of affordable amazing fun and excitement, whether as a scuba-diver, snorkeler, swimmer or observer.
Dive wrecks, marine reserves or hunt for scallops all over the Marlborough Sounds, discounts for more than one diver and best price guarantee.
Our dramatic sheltered coastline surrounded by mountains is the habitat of many marine mammals, you can encounter penguins, sea birds of many varieties, a range of fish from stingrays to the blue cod, and marine mammals like dolphins, orcas, whales and a variety of seals.
Especially swimming with the playful fur seal in the wild is an educational and fun experience for adventurers of all ages.
---
Cougar Line, Marlborough Sounds premier water transport company, has over 25 years experience transporting people and goods to and from the Queen Charlotte track, resorts and private homes along the Marlborough Sounds. You can trust Cougar Line to ensure your Marlborough Sounds experience goes to plan.
Providing a fast and efficient water taxi service to all resorts, lodges and private jettys along the Queen Charlotte Sound with scheduled daily departures Cougar Line has gained a reputation for quality vessels, outstanding service and provides a fast and efficient service to and from the Queen Charlotte Track each day.
---
Dolphin Watch & Nature Tours
Dolphin Watch & Nature Tours provide Dolphin Swimming & Viewing Tours, Scenic Wildlife Cruises, Bird Watchers Expeditions, School/Educational Packages & Private Charters
We operate out of Picton in the calm & sheltered waters of the beautiful Marlborough Sounds. A clean green paradise full of natural beauty, bush, sea, history and wildlife, all waiting to be explored and experienced. Our conservation focused and fully guided tours are fun, informative and educational.
Visit Dolphin Watch & Nature Tours
Contact us for more informations.
Queen Charlotte Track Walks

As Marlborough's most experienced adventure tour operator on the Queen Charlotte Track, we have an unsurpassed knowledge of how hikers like to enjoy this stunning walk. Our packages are designed to ensure that no matter if you are a guided or independent hiker, your walking experience on the Queen Charlotte Track is complete and comprehensive. Where possible we have included some extra features that are not available with other tour operators.
Visit Queen Charlotte Track Walks
Contact us for more informations.
---